Certified by Open-E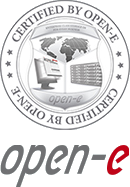 RECT™ Storage NAS configurations extend the storage of the whole network: They may act as NAS Filers, as feature-rich iSCSI targets for replication or as efficient storage resources for CCTV and the like. The systems can be integrated easily into the existing infrastructure and they impress with performance, energy efficiency and reliability. By using an optimal operating system for storage that has been well proven worldwide and that has the best possible support, you can easily and efficiently put all the hardware features of our NAS systems into practice. As a result of our years of experience with storage, we recommend Open-E DSS V7. It reduces both administration effort and the required amount of data storage considerably. That way you it proves to be a real cost benefit.
Open-E has put the two basic RECT™ NAS configurations to the test, let them undergo extensive testing series and eventually certified both of them. The remarkable performance characteristics tell their own story, and so does the versatile application spectrum:
NAS filer, iSCSI Target, backup storage or even high-availability solution (HA) in an active/active cluster with automatic failover or performance-enhancing load distribution.
with optimized and high performance characteristics for all kinds of applications: regardless if it comes to the read/write rates across all RAID levels (e.g. RAID 5: 1,100 MB/s write, 1,090 MB/s read), the network link (1 GbE as well as 10 GbE interfaces), the computing performance of the host system (both single-socket and dual-socket Intel® Xeon® server boards), or stability and security (redundancy and error correction)
compatible with all current environments (VMware, Citrix, Microsoft, Linux, Mac OS X)
For a closer inspection of the test results, you can download the (certification reports) offered by Open-E.
| | |
| --- | --- |
| 2HE Storage with 2x Xeon E5-v2 and 7,2 TB HDD | 3HE Storage with 1x Xeon E3-v3 and 32 TB HDD |
In addition to the described features there can be numerous further requirements that have to be met in order to suit the needs of your specific infrastructure. Therefore, we recommend a look at our customized offers predicated on these basic RECT™ NAS configurations. The platforms used for the customizations comply with those of the basic configurations that have been fully approved by Open-E.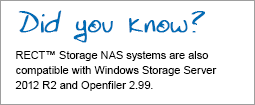 Freedom of choice with multiple variations of the Open-E certified platform
Open-E has certified the two basic systems for RECT™ Storage NAS for using its well-known software solution DSS V7. But on top of that you can also make use of the outstanding performance, stability and the low TCO in adapted configurations and software setups, which you can tailor to your particular needs. For that purpose we have put together a bunch of specialized storage packages based on the certified configurations which allow further adaptations to your infrastructure and your plans: no matter whether you are using Open-E DSS V7 or whether you want the system to be prepared for operating with an OS of your choice. Your customer consultant will be pleased to advise you.