The solid plus factor for resilience: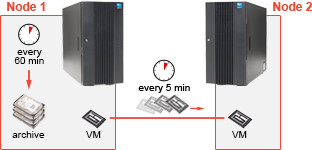 Replica Cluster for all planned and unplanned failover scenarios

The Replica Cluster is a tailored bundle comprising two redundant nodes (primary server and replication server), running pre-configured instances of Windows Server 2012 R2 with Hyper-V.

The primary server and the replication server run synchronously, while the replication server acts as the (active) primary server's surveillant: if the primary server goes offline, the formerly passive replication server instantly takes over the primary role.

Ambitious work environments gain considerable amounts of resilience and fault tolerance. Ostensibly, the Replica Cluster presents itself as a single server in your network. However, the data is actually being stored redundantly by the replication server in the background. Hence, data is available on both nodes simultaneously.

In practice, the Replica Cluster is far more than just a safety belt for unplanned failovers, as they may occur in the course of hardware faults or errors in the operating system. Its benefits also apply to planned failovers due to regular maintenance works or necessary upgrades to the hardware and software. You can now schedule the required steps in a really structured manner, and you can take care of everything during the usual business hours, without even bothering the normal operation.

Configure your RECT Replica-Server online that suits your needs best. Or just talk to your customer adviser for more information and to help you through the process. Grab that solid plus factor and take server resilience to a new level!
Single Socket Failover
Dual Socket Failover
RECT™ custom-made products

If you have special needs - speak with us. We provide advice, help you plan and come up with a solution that's right.

Adjusted hardware and software configurations
Customized system test runs
Individual service agreements (SLA)