Increased resilience, calculable maintenance expense: challenge unforeseeable risks with RECT Failover solutions

Your server is a vital part of your IT infrastructure, maybe even the centerpiece of your enterprise. It's in charge of essential tasks and it administrates productive data. Data you want to be able to access at any time. Be it a redundant power supply, registered memory with ECC, RAID drives certified for 24/7 operation with particular low fault rates or cache protection for RAID controllers featuring state-of-the-art condensators instead of batteries: Servers branded RECT are full of smart and countlessly proven ideas for higher productivity and an all-round carefree hardware life cycle.

A comprehensive safety concept also covers the server as a whole, not just the components assembled within. Hence, failover solutions by RECT allow you to keep cool when hardware needs to be maintained or challenging tasks like complete rollbacks appear on the agenda. Now the time for service operations like firmware upgrades or employment of new hardware can be coordinated professionally.

Depending on the actual requirement profile of your enterprise, we offer an elementary solution (Cold Spare) and our sophisticated Replica Cluster, the latter aiming at even higher availability by combining consequent hardware redundancy with the unbeatable advantages of the latest virtualization technology in Microsoft Server with Hyper-V.

Replica Cluster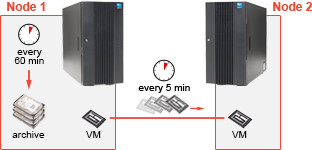 The Replica Cluster is an automated double-decker server solution comprising a primary server and a replication server, featuring an integrated security concept with Microsoft Hyper-V to make your data available redundantly, and keeping the maintenance expenses to a minimum.
Cold Spare
If your server fails due to a hardware error, you can make use of an equivalent replacement you have in store. Only several steps have to be taken care of to keep the outage relatively short and your mind free for diagnosis and recovery.