Simple solution in case of emergency:
Cold Spare as a quick replacement
This is the simplest solution when it comes to improve availabilty. All you need for this kind of a stashed replacement is a server system identical in construction to your regular server, but without hard drives. If your regular server needs maintenance, you switch the hard drives of your regular server over to the Cold Spare Server, connect everything and power it up. When the Cold Spare has taken over, you can devote yourself to the retired machine and prepare it for reinstatement.

What options are there?
The RECT Shop with configurator offers the Cold Spare option for virtually all RECT systems. We recommend hot swap trays to make the transfer of any hard drive as convenient as possible. Also, it's crucial to ensure a certain level of redundancy throughout the machine per se. Failsafe hard drives in a RAID configuration as well as a redundant power supply are essential components for improved reliability. There are still factors in the setup that cannot be fully safeguarded with built-in redundancies. You might want to take a look at our Replica Cluster if you're interested in a more comprehensive approach. In comparison, Cold Spare would be the budget solution. Downtime can be reduced and resolved with several manual work steps.

What else is to know about Cold Spare?
To make the switch from one server over to the other as easy as possible the Cold Spare should be preferably identical to the regular server. Elementary components as mainboard, controller and backplane should be identical concerning type, revision and firmware. Everything else is subject to an appreciation of values (for instance a budget power supply for the Cold Spare). Our recommendation would still be an identical configuration only without the hard drives. In the course of replacing your regular server with a Cold Spare, software licenses need to be transferred as well. If you want to reduce the hassle, you should configure the Cold Spare coequally to the regular server. This way, you can just trade off the roles of the two machines without suffering a loss in either power or security, and you can keep the restored server as the new emergency backup.
Single Socket Failover
Primary and its replacement system: Single-CPU Xeon E3-v5
tbd (sockelpfeil)
Dual Socket Failover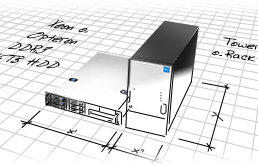 RECT™ custom-made products
If you have special needs - speak with us. We provide advice, help you plan and come up with a solution that's right.
Adjusted hardware and software configurations
Customized system test runs
Individual service agreements (SLA)