RECT™ Tower Server
Für kleine und mittlere Unternehmen, für Niederlassungen wie auch als Knotenpunkt innerhalb einer Abteilung – RECT™ Tower Server bieten genau die richtige Lösung für Ihre IT-Infrastruktur. Vom so kompakten wie günstigen Entry Server über vielseitig skalierbare Mid-Range Server bis hin zu enorm leistungsstarken High-End Servern für die anspruchsvollsten Anwendungen.
Entry
For small networks the Entry-Server offers an optimal centre:
SixCore CPU up to 3.4 GHz
Up to 64 GB RAM
Up to 16 TeraByte hard disk storage
Mid-Range
Optimised for computing power and speed the Mid-Range Server offers a perfect stage for the company.
up to 32 CPU cores
Up to 48 TB hard disk storage
up to 512 GB RAM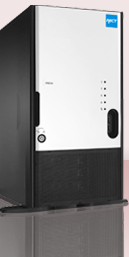 High-End
Optimised for security and storage memory the Storage-Memory-Server guarantees an optimal backup and archive system
Up to four CPUs
Up to 512 GB RAM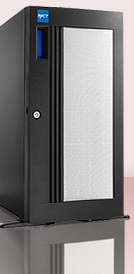 Die Bestseller aus den Kategorien:
Tower Server der Marke RECT™
...immer außerordentlich qualitativ, immer nach Maß, immer gut abgesichert

Tower Server bilden häufig genug das Herzstück der IT-Infrastruktur im Unternehmen. In Sachen Sicherheit, Stabilität, aber auch Flexibilität und Rechenleistung müssen sie sich rund um die Uhr beweisen. Speziell dafür werden unsere RECT™ Tower Server konzipiert.

Da kommt es auf das Detail an. Und das wissen unsere Entwickler. Denn im Ergebnis aller Komponenten und Leistungsparameter entsteht mit dem leistungsfähigen Server das Quäntchen Leistungsplus. Das Plus oberhalb der Norm. Dafür setzen wir auf die Qualität der Hardware, auf ihre Performance bei gleichzeitiger Zuverlässigkeit. Wir setzen auf die Abstimmung der im Paket funktionierenden Hardware mit der eingesetzten Software. So entsteht die Effizienz im Einsatz wie auch die Optimierung durch den Einsatz.

Unsere Server Plattformen der RECT™ Tower Server übertreffen die Anforderungen, die Unternehmen an sie stellen. Die maßgeschneiderten Systeme entsprechen dabei im Einsatz exakt den Anforderungen. Das garantiert die Effizienz bis hin zu den Gesamtbetriebskosten.

CORETO Server liefern eine solide Plattform für eine optimale Geschäftsentwicklung. Die State-of-the-Art-Technologie sichert dabei die Grundlage für eine bewiesenermaßen starke Performance, leichte Skalierbarkeit und hohe Zuverlässigkeit. So lassen sich Betriebsabläufe – heute wie morgen – effizient gestalten und anpassen, während Ausfallzeiten minimiert bleiben.




This shop is directed to enterprises, traders, businessmen and public institutions. Quoted prices do include neither VAT nor unless differently stated shipping charges.